JS Newsletter June 11, 2018
Dear parents, faculty, and staff,
Last Friday, June 8th, we had the great honor to welcome our J4 families to celebrate our students' graduation. This Newsletter is an opportunity for us to share with the full Junior School Community, parents, faculty and staff, this unique celebration, a great illustration of what the Junior School is all about.
You will find below our speakers' speeches and a short slideshow which we hope will allow you to feel the intensity of this wonderful event.
UNIS Graduation 2018 Speakers:
Pascal Vallet, Junior School Principal
Áine Feeney, J4 Homeroom Teacher
Erin Machacek, J4 Homeroom Teacher
Jennifer Quinn, J4 Homeroom Teacher
Jeremy Clark, J4 Homeroom Teacher
Neil O'Hagan, J4 Homeroom Teacher
UNIS Graduation 2018 Support Team:
Susan Scullin, Assistant Principal
Jack Dod, Theatre Teacher
Olivia Decicco, J4 Teacher Assistant
Amy Travis, Music Teacher
Dan Scozzari, Music Teacher
Michelle Fredj-Bertrand, Director of School Events
James Masciovecchio, Theatre Manager
Louise Carrie Wales and Ligeia Moltisanti, Photographers
Special thanks to Danae Adam and Isaac Sosa for their help designing and printing the Diplomas and to everyone in the Junior School for their support over the years. Special thanks also to all the parents who supported this event and who designed the beautiful J4 Graduation Book!
And of course.... Congratulations on graduating to all our J4 students. Wishing you a bright tomorrow in Middle School!
Pascal Vallet
Junior School Principal
Susan Scullin
Junior School Assistant Principal
Monday, June 11 - Semester 2 JS Report Cards Available (details below)
Friday, June 15 – Last 1/2 Day of JS Classes 11:45 Dismissal (details below)
Wednesday, September 5 - First Day of School 2018-2019
All JS students will be dismissed at 11:45 on Friday, June 15, that last day of school this term for JS students.
Classes will NOT have lunch in school that day. You may want to send a hearty snack for your child.
Yellow buses will depart UNIS right after the 11:45 dismissal.
If your child will be picked up at school on the last day, please ensure that you or your caregiver arrives at UNIS by 11:45 that day.
After Care and After School will NOT be in session.
All JS students are expected to leave the school at 11:45. No student supervision is available after that time.

You will find on the Junior School Back to School Portal all the information you will need to support your child in a successful beginning of school year! Note that it is still under construction and more information will be added over the next 3 weeks. For your information, the "Getting Ready" with the supplies lists are already available on the portal.
The Junior School Report Cards will be shared with parents at 5:00 pm today Monday, June 11. If after reading your child's report card you have any questions or need clarification on any aspect please email the teacher concerned with a copy to jsoffice@unis.org.
It is important for parents to do this by Wednesday, June 13 so that any appropriate action can be taken. Once school is closed many teachers leave immediately for summer travels.

To download and view your child's online report card:
Go to www.unis.org and click on "Community Login"
Log on with your ID and password
Click on "My Backpack"
Click on " My Documents"
Clicking on the report card will download it on your computer or open it up as a PDF file in your default application.
In case of a problem, feel free to contact the tech support at websupport@unis.org. Please note that the Pre-K report cards have been sent separately by the homeroom teacher as we are not using the same template.
Graduation Speech by Pascal Vallet, Junior School Principal
This speech was written including words shared by the Junior School teachers from JA to J4.
Dear students,
I'm standing in front of you today, humble. And honored, to be your principal. Just a few more days.
Soon you will receive your diploma from your teacher, a symbol of the conscientious effort you have demonstrated over the years, a diploma well deserved for your growth as a balanced learner through your journey in the Junior School.
Earlier this year we had the opportunity to talk about Martin Luther King and be inspired by his actions and his vision. Through his wisdom, we learned more about caring, we learned more about standing up for our values, and that we can all make a difference. Martin Luther King taught us that "the ultimate measure of a man is not where he stands in moments of comfort and convenience, but where he stands at times of challenge and controversy." We have all faced challenges. And it was a challenging day that led me to begin my appreciation of the attributes of a Junior School UNIS student.
Back in November 2014, I remember walking home with my daughter, who is now an M2 student. I shared with her that I had had a difficult day and that sometimes, I felt discouraged. She was listening to me, curious and empathetic. Holding my hand firmly and kindly, I could feel that she was genuinely concerned for me. And then she stopped walking, and, determined, looked at me. "Papa, you need to be confident and resilient, you can do it." I was speechless. She continued: "You need to believe in yourself. Mr. O'sullivan taught me this".
I was standing in front of her, as I am standing in front of you today. A UNIS student. Like you, she was very active, constantly engaged in her learning by her teachers. Like you, she was committed to succeeding. Like you, she was very enthusiastic to come to the School every day. She was also, like you, sensitive. Inquisitive. Optimistic. Resilient. Confident.
A UNIS student is surely a strong academic student. Over the years in Junior School, you have learned to build, as an inquirer, a strong foundation in many areas of the curriculum. This foundation will be "your passport to the future, for tomorrow belongs to the people who prepare for it today". And everything you have learned in Math, literacy, humanities, arts, technology, science, and much more will help the UNIS student you are to achieve successes in Middle School.
But this day 4 years ago, when I was walking down the street, discouraged, this day when my daughter's wisdom echoed Peter Pan's own words when he said: "The moment you doubt whether you can fly, you cease forever to be able to do it". This day still resonates in my memory. It is the day I realized that being a UNIS student was not only to be a strong academic learner.
Your teachers, together with everyone working at UNIS and in partnership with your parents, had much more in mind than only making sure that you learned to count, to multiply, to read and to write. Over the years, your teachers had the great responsibility to support your growth as well-rounded students, UNIS students, inventive, creative, focused, collaborative, adventurous, reflective, principled, resourceful, theatrical, proactive. A wondrous thinker, a problem solver. "Intelligence plus character—that is the goal of true education." Again, I cannot agree more with Martin Luther King.
And in this journey, you have not been alone. Friends. Dedicated Friends.
Do these words sound familiar to you?
"Why did you do all this for me?' he asked. 'I don't deserve it. I've never done anything for you.' 'You have been my friend,' replied Charlotte. 'That in itself is a tremendous thing." I am sure you remember this pig named Wilbur who is saved from the slaughterhouse by an intelligent spider named Charlotte. Friendships are what you have built over the years. Friendships are a tremendous thing.
In the years to come, you will enjoy magical and playful moments; you will have great successes. In the years to come, you will be challenged; you will have many questions without straight answers, you will have doubts.
But you will never be alone. You will be surrounded by UNIS students, your friends, with all the great attributes you will take with you when you leave the Junior School. You will remember what Albus Dumbledore said in Harry Potter and the Sorcerer's Stone: "Happiness can be found even in the darkest times if one only remembers to turn on the light." And a UNIS friend will always be there, with you, to help you turn on the light.
It is time for us to let you go. But I will continue to be here for you, as will all your teachers. And you will always be welcome. The Junior School will always be your home.
Now it is time for us to let you fly to the 4th floor.
Words from the graduation speech, shared by Junior School Teachers and displayed on the screen behind the students during the J4 graudation 2018
Your teachers. All the words that you see here, all these words that have shared space over the past few minutes with my own, all these words are your teacher's words. When I asked them, from JA to J4, these are the words that they gave to me to define you, their students. This is who you are to them.
And I will add to their words those that belong to Eleanor Roosevelt, an American political figure, diplomat and activist: "The future belongs to those who believe in the beauty of their dreams."
Never stop dreaming.
Pascal Vallet
Junior School Principal
Graduation Speech by Áine Feeney, J4 Homeroom Teacher
About 3 weeks ago, I received an open letter of action on Google Docs from you, signed by most of the class, that urged me to share information about our camping trip earlier than planned. In this letter, you listed 9 reasons why I should give you what you wanted. You included the lines, "We hope you appreciate all of our time and effort put into this essay, even though we are a loud class with lots of opinions." That part is certainly very true!
It was a very well written piece of persuasive writing and although it didn't succeed in getting you what you wanted, it was a fine example of what a wonderful group you are.
I have enjoyed every moment with you this school year, your humor, good spirits, inquisitiveness and passion for learning. Like many students your age you have many ideas for change in the world and can identify wrongs to want to make right but unlike many students, and indeed adults, you have the motivation to act. I will never cease to be amazed by the ingenuity of this group as a whole and I wish that you never lose this.
Congratulations J4F.
Graduation Speech by Erin Machacek, J4 Homeroom Teacher
J4EM what a year its been! I'm beyond proud of you today.
This year has been one of growth, challenge and of course fun. You are risk takers, inquirers, and communicators who love learning.
You are Global Citizens who are aware, take action, participate and persevere. But most of all you are such a kind, caring and compassionate class of students, and for this, I am most proud.
Here are are some words of advice as you embark onwards to the next stage of the journey - into M1, as 5th GRADE students!
Always remember:
⭐️You are braver than you believe
⭐️You are stronger than you feel
⭐️You are loved more than you know
⭐️And you are even smarter than you think
Congratulations, J4em and to all of our UNIS J4's. I'm so very proud of you today!
Graduation Speech by Jennifer Quinn, J4 Homeroom Teacher
It is my complete honor and privilege to say that I have been this class' teacher this year and have traveled with them on their journey. When I think of all the things they have learned, the friendships they have developed, and the growth they have made - I know full well that they are ready for Middle One. I have no worries at all. Speaking of Middle One, it is all the way up on the fourth floor - not that far away at all and I want you to know that I will always be here for you. Any time you need me or if there is anything I can do for you, please come by. I have an open door policy - since I don't have a door, as you all know! I want to thank you all for being cheerleaders in trying to get me one - your efforts were admirable. I want to leave you with a quote - because you know I love quotes - and it is from a Broadway musical - because you also know I love the theater (Rio - see if you can guess the show). I just want to say, "Because I knew you, I have been changed for good."
Graduation Speech by Jeremy Clark, J4 Homeroom Teacher
I want to congratulate all of your on your transition to middle school. On this day of celebration, I have one piece of news for you. Life is about to get a whole lot more difficult. I know that sounds a bit pessimistic, but it's the truth. You are going to be challenged in new ways. You're going to find that the knowledge and skills that have served you well in Junior School just might not be enough. But, take a moment and think back to the times when you struggled this year. The times when you were stuck, or frustrated, or just plain didn't know what to do. Think about how you faced those moments. Those were the times you grew. The times you opened your mind to new strategies. Those were the times you heard out someone else's idea. Those were the time you looked inward to your creative side and saw the problem in a different light or from a new angle. Your times of struggle and adversity, were the learning opportunities that led you to becoming the better version of yourself that stands before us right now.
Throughout the year, I've proudly watched you all take on adversity, learning and growing to overcome it time and time again. As you are challenged in the coming years, continue to keep an open mind, inquire, and most importantly persevere. You will be all the better for it. I'm so proud to begin calling you forward to receive your Junior School Graduation certificates.
In the immortal words of Dr. Seuss, "You're off to great places! Today is your day! Your mountain is waiting... so be on your way!" I'd like to present the UNIS J4C Graduating class of 2018.
Graduation Speech by Neil O'Hagan, J4 Homeroom Teacher
The teacher and poet, Taylor Mali said that: "Graduations need not only be obsessed with looking ahead; a graduation can be a day on which we turn back and trace our steps to see how we ended up where we are." While you think about that, I would also like to read you a poem. We had a poem of the day every day, so let's call this one the poem of the year.
Have You Earned Your Tomorrow? By Edgar Guest
Is anybody happier because you passed their way?
Does anyone remember that you spoke to them today?
This day is almost over, and its toiling time is through;
Is there anyone to utter now a kindly word of you?
Did you give a cheerful greeting to the friend who came along?
Or a churlish sort of "Howdy" and then vanish in the throng?
Were you selfish? pure and simple as you rushed along the way,
Or is someone mighty grateful for a deed you did today?
Can you say tonight, in parting with the day that's slipping fast,
That you helped a single person of the many that you passed?
Is a single heart rejoicing over what you did or said;
Does a friend, whose hopes were fading, now with courage look ahead?
Did you waste the day, or lose it, was it well or sorely spent?
Did you leave a trail of kindness or a scar of discontent?
As you close your eyes in slumber do you think that you can say,
You have earned one more tomorrow by the work you did today?

Thank you, J4O for giving me an unforgettable year. I wish you every success as you move into middle school and beyond.
On Monday, June 4, the Junior School Administration in collaboration with the PA held the last Parent Coffee of the year. It was an opportunity to share a one year review. You can view the presentation by clicking on the link below.
A message from the Parents Association
Junior School PA would like to thank all parents for volunteering at JS Sports Day last week. Without you this day would not be what it has proved to be once again — JS signature event filled with fun, joy, and sportsmanship, appreciated by the children and parents alike.
Our VERY SPECIAL THANKS goes to Helen Stephan and Lauren Moss, event parent co-chairs, for once again taking the lead! Their personal passion and dedication to JS Sports Day over the years at UNIS is something for new parents at the school to learn from. Also, kudos to Zoi Papadopoulou, Roey Yohai and Huu Nguyen for coordinating the event for the younger students at Pre-K and JA.
Many thanks again to everyone and see you all at JS Sports Day 2019!
Singin' in the Rain Photos and Video links
LINK TO PHOTOS: Here is the link to the photo album of the show.
Not all of the photos have been added yet. But the link is live, so you can periodically check in with that link and you'll see updates and additions in real time.
LINK TO VIDEO: Here is the link to the video of the show.
NEXT YEAR'S SHOW : I'm very happy to announce that next year's show is... going to be announced soon. I wonder what adventures await next year's cast and crew? What do our students have in common with Harry Potter, Luke Skywalker, the Mona Lisa, and robot dogs?
Jack Dod - Director
Middle School Students Fundraise with JA Student
Aliya (JAW) ran into some UNIS Middle School girls who were raising money for charity and they invited her to join them in selling their wares. Aliya loved her time working with them and was so proud of herself and happy to be included! She wanted to share these photos with all of Junior School.
pi·ña·ta | pēnˈyädə/ noun
(especially in Spanish-speaking communities) a decorated figure of an animal containing toys and candy that is suspended from a height and broken open by blindfolded children as part of a celebration.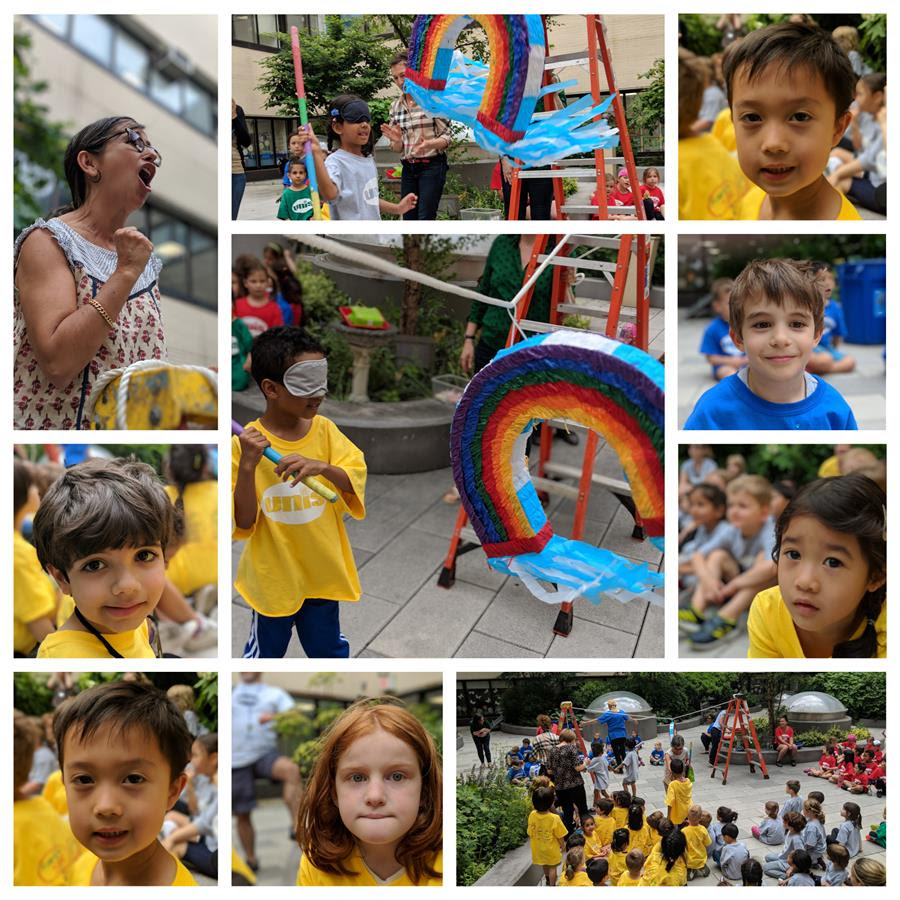 JS Attendance
To report your child's absence or lateness, please contact your homeroom teacher by email with a copy to jsattendance@unis.org no later than 8:30am each day that your child will be absent. If email is not available to you, you may leave a phone message at 212-584-3113 to let the JS Office know and a note will be sent to the homeroom teacher.
Early Dismissal of JS Students Requires a Pass
If your child will be picked up from school at any time before the 2:55 JS dismissal, please ensure that you or your caregiver obtains an Early Dismissal Pass from the JS Office or your JA teacher. Security will not permit a student to leave the premises before 2:55 without this pass.
Lost and found
Please take the time to write your child's name in all outer garments, lunch boxes and water bottles. Our staff does their best to return misplaced items to their owner, but without a clearly written name, it may not be possible.
Updating Family Contact Info in the Parent Portal
Please review your family profile and contact information to ensure that your phone numbers and email addresses are up to date. All departments at UNIS, including the Nurse, rely on the information that you provide here to contact you. After logging in to the UNIS Parent Portal, you may review and update all of your family contact information by visiting ->My BackPack -> Settings -> My Profile -> Edit.
Caregiver Access to UNIS
To give permission for a new caregiver to enter UNIS to pick up or drop your child, please log in to the UNIS Parent Portal (->My BackPack -> Settings -> My Profile -> Edit) and enter that caregiver's name as an Additional Contact in "My Profile" section in My Backpack. Click EDIT and scroll down to ADD as many Additional Contacts as you need. After you do that, your caregiver can have a UNIS ID made that will allow him/her access to the school to pick up and drop off.
In the interim, until the ID card is made, please have your caregiver be prepared to present a photo ID to Security at the front gate each day, along with the authorization form below.
If your caregiver is temporary, or a visiting family member will be picking up or dropping off, please follow the same procedure (adding their name to your family profile and giving them the authorization form to present at the security gate with a photo ID). However, in temporary situations, there is no need for a UNIS ID card to be issued.
In either case, in addition to your homeroom teacher, please email jsattendance@unis.org in advance to alert the school that a new or temporary caregiver has permission to pick up your child, providing their full name and all dates and times that they will arrive. If the pick up will be after 2:55 because your child is in an after school activity, please also notify afterschool@unis.org, or gevans@unis.org for athletics.